It's no secret that I love summer. When June rolls around I'm ready to spend the next 3 months outside – lying on the beach, scalloping in the Crystal River, or standing next to a grill… it doesn't really matter to me. As long as I have a cold beverage and a well curated playlist, I'll be outside until dark.
It's also no secret that I love food. 90% of the time while editing photos, I am either listening to a podcast about food, "watching" re runs of the Barefoot Contessa, or thinking about what I'm going to make for lunch. Recently while pouring through The Magnolia Cookbook, I read a quote from Joanna Gaines that summed up my feelings perfectly, "I sure get grumpy midday if I don't love what I'm eating. I just enjoy food too much to waste a meal each day on something that isn't really great." #RETWEET
A few weeks ago, I went home to visit my parents for a few days. On the drive down, I called my Mom to let her know I was on my way. Before we hung up she said, "Hey! When you get here, we're going to Snow's!" I squealed and pressed the gas pedal a little further down.
Snow's is a produce market and general store a few miles from my parents' house. It's owned and operated by Georgia and Kent Snow who have lived in Citrus County their whole lives. Prior to opening Snow's, they ran a wallpaper business out of the same building. But when wallpaper became a thing of the past, they had to come up with another plan. So they opened the produce market.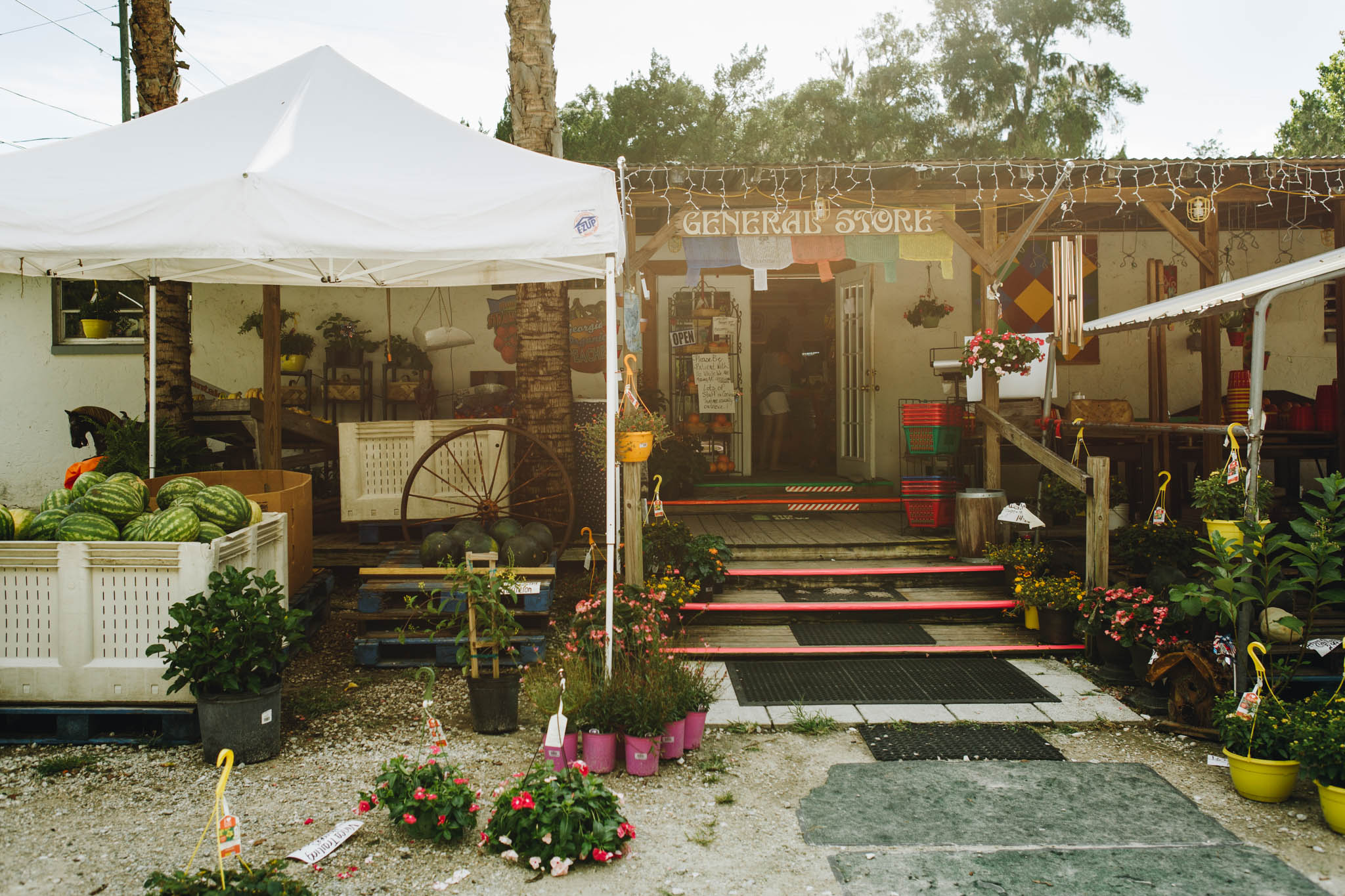 According to their sign, Snow's is open every day from 8am-7pm, and offers produce, amish goods, and nostalgic candy. Additionally, they have a variety of potted plants and herbs, glass sodas, and free samples (obviously my favorite part)!
My mom first met Georgia when they worked the concession stand together while their boys played little league baseball. Whenever Mom stops by the market, the two ladies catch up on the latest news of each others kids and grandbabies. Last time I was there, Mom asked Georgia if her granddaughter had got into NYU. Georgia told her she had, and mom squealed with delight saying, "I prayed for that! I did! I prayed!"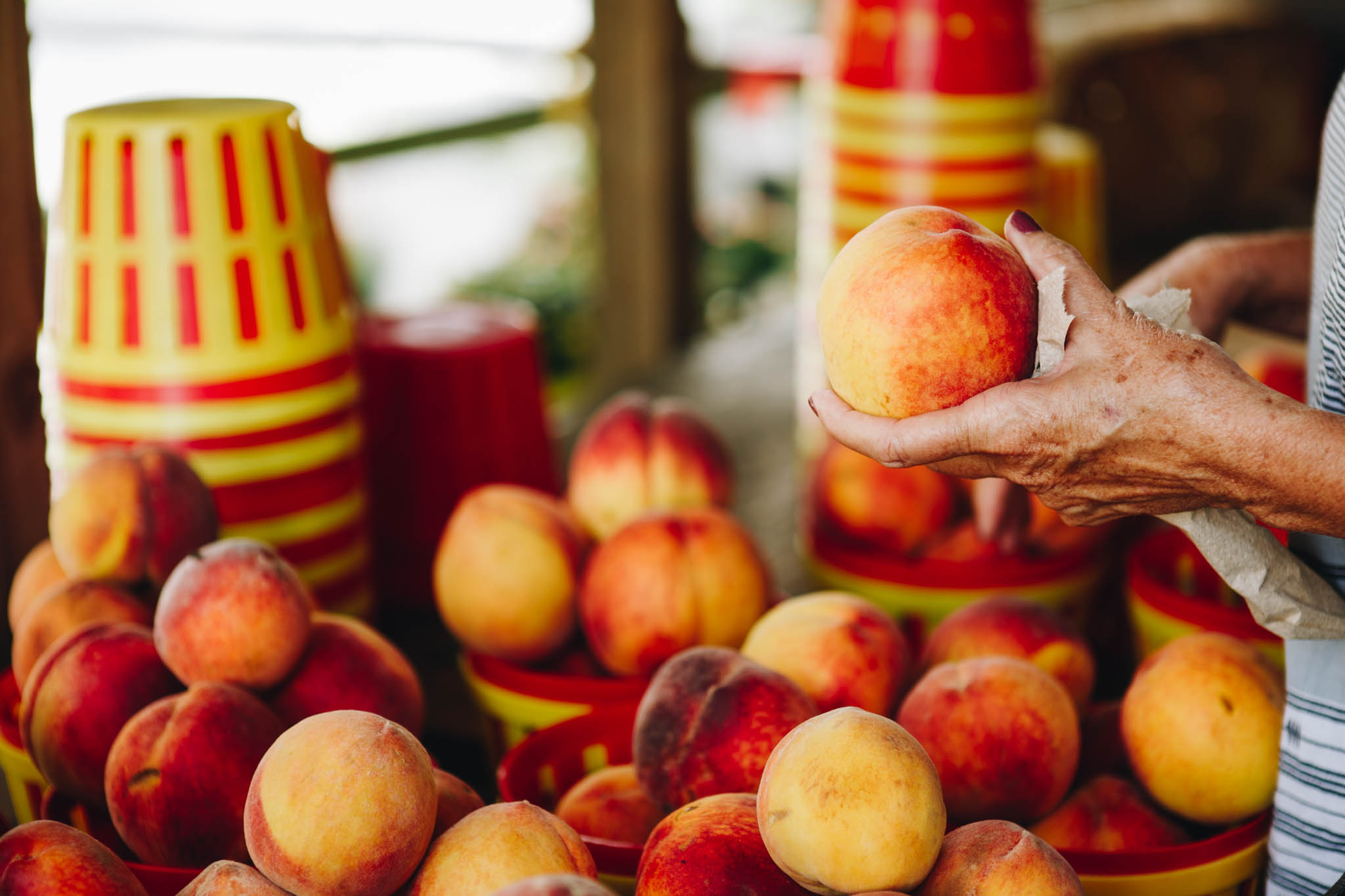 Georgia and Kent work hard. On any given day, they can be seen unloading boxes of Tennessee tomatoes or Georgia peaches. They're always smiling, welcoming customers, and giving the low down on what arrived on the morning truck.
That afternoon, Mom and I stocked up on peaches, blueberries, tomatoes, cucumbers, limes, cilantro, corn, and whatever else caught our eye.
To me, summer is all about living and eating simply. When the tomatoes are so ripe that they taste like fruit and the peaches so sweet they are a dessert on their own, why complicate matters? I recently heard on the Foodcast that the traditional flavors of caprese can be expanded to whatever is in season. Then I saw Joanna's (first name basis, obvi) recipe for peach caprese salad in her cookbook and was sold.
In August, when the peaches are the sweetest and your mind can't fathom eating anything hotter than room temperature, this quick salad is the perfect summer lunch.